---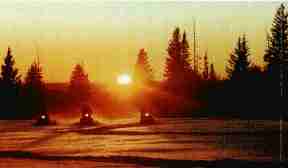 Perhaps no place in Colorado
can match the opportunities Meeker offers to snowmobilers ..7 trailheads ..hundreds of miles of trails ..County Roads that become snowmobile routes duringthe winter ..travel from Glenwood to the top of Ripple Creek Pass on your snow machine - over 75 miles one way! Great snow! Great Lodges! Great Restaurants! And all at a very reasonable price!
---
The Buford-Newcastle road is open to snowmachines all winter. Hundreds of riders travel from the Glenwood- Newcastle area on weekends to spend the evening at one of our many guest lodges on the White River.
The White River Snowmobile club is very active. Most weekends feature several planned rides ranging from novice to expert.
Contact the Chamber of Commerce for information on the Meeker Hillclimb.

White River Snowmobile Club
P.O. Box 803
Meeker CO 81641
Order your free snowmobile trails map today from the Meeker Chamber of Commerce
970-878-5510


---
This page was contributed by Michael Kay (970) 878-4042
---