Rocky Mountain
National Park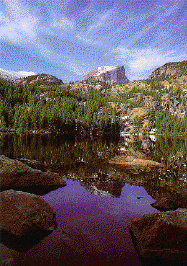 The park's rich scenery typifies the massive grandeur of the Rocky Mountains. Trail Ridge Road crosses the Continental Divide and looks out over peaks that tower more than 14,000 feet high. Wildlife and wildflowers call these 415.2 square miles (265,727 acres) of Colorado's front range, home.







VISITATION:

3.1 million in 1994; highest in July and August; lowest in December.

LOCATION:

Estes Park, CO

ADDRESS:

Headquarters: Rocky Mountain National Park
Estes Park, CO 80517

TELEPHONE:

(970) 586-1206, for general information.
(970) 586-1333, phone recorded message.
(970) 586-1319, TDD.
(970) 586-1242, backcountry information.
(970) 627-3471, West Side information.

OPERATING HOURS, SEASONS:

Open 24 hours a day, year round.

CLIMATE, RECOMMENDED CLOTHING:

Summer; sunny mornings, possible afternoon thunderstorms and cool nights. Winter; cool conditions to blizzard conditions with extreme temperature variations. Weather conditions change quickly in mountainous areas and snow is possible year round. Wear appropriate dress for each season; comfortable clothing, dress in layers, rain gear, and sunscreen.

DIRECTIONS:

Visitors traveling from North-South on I-25: exit highway 34 or highway 36, westbound to Estes Park. Continue on highway 34 to the north entrance, or highway 36 to the south entrance, where park headquarters is located.

Visitors traveling from the East-West on I-70: exit highway 40 north to Granby, north on highway 34 to Grand Lake and continue on highway 34 to the west entrance.

TRANSPORTATION:

To Park: access by state highways 34, 36, and 7.
In Park: personal vehicle, bicycle, summer season limited shuttle bus service on Bear Lake Road and public transportation: tour buses.

FEES, COSTS, RATES:

FACILITIES AND OPPORTUNITIES:
Visitor Center/Exhibits:

Headquarters Visitor Center and Kawuneeche Visitor Center offer park orientation exhibits and movies; open daily, closed December 25. Moraine Park Museum, "The Making of a Landscape", geology exhibits; open daily, May through mid-October. Alpine Visitor Center, "The Land of No Trees", alpine tundra ecosystem exhibits; open daily, Memorial Day through mid-October. Combination forest service and park service exhibits explore the Longs Peak area at the Lily Lake Visitor Center; open daily, June through August. The Never Summer Ranch examines historical dude ranching; open mid-June through Labor day. Corral Creek information station open daily; mid-June through Labor Day. Sheep Lakes information station; open daily, mid-May through mid- August.

Trails, Roads:

There are 355 miles of trails ranging from easy to strenuous. There are 82 miles of paved roads, and 28 miles of unpaved roads. Trail Ridge Road (highway 34), crosses the park and rises to 12,183 feet, with ten miles of road above tree line. Trail Ridge Road is open Memorial Day through mid-October. Fall River Road, one-way uphill only, is nine miles of gravel road and meets Trail Ridge Road at Fall River Pass. Fall River Road is open July 4 through mid-October. Bear Lake Road, highway 36, and lower sections of highway 34, are open year round. Roads close temporarily, due to weather conditions.

Programs/Activities:

Ranger led activities daily, during the summer, and weekends, during the winter. Special programs held year round.

Lodging and camping facilities:

Lodging available in Estes Park and Grand Lake.

Five Campgrounds (577 sites); Longs Peak, Aspenglen and Timber Creek are first come, first served. Moraine Park and Glacier Basin are reservation campgrounds, 1-800-365-2267. Longs Peak, Moraine Park and Timber Creek campgrounds open year round. Group sites available at Glacier Basin.

Backcountry camping by permit only. Designated backcountry sites (269) and zoned areas. There is a $15.00 permit fee during summer, with reservations suggested. Permits are required for bivouacs.

Food/supplies:

Available in towns of Grand Lake or Estes Park and snack bar located at gift shop at Fall River Pass.

Other Concessions/NPS-Managed Visitor Facilities and Opportunities:

In summer, horse stables and gift shop available. The Rocky Mountain Nature Association operates book centers in each visitor center.

Accessibility:

Park Headquarters, Lily Lake, Moraine Park Museum, Alpine Visitor Center and Kawuneeche Visitor Centers are accessible with some ranger led activities. Trail to Bear Lake, Beaver Boardwalk, Sprague Lake and Coyote Valley trails are accessible, as well as the backcountry site located at Sprague Lake. Most campgrounds, amphitheaters, overlooks and bathrooms are moderately accessible.

Special Needs:

Parking areas at the Alpine Visitor Center and Colorado River Trailhead are available for buses. Many other overlooks can accommodate buses depending on traffic volume. Shuttle bus operates on Bear Lake road during summer.

RECOMMENDED ACTIVITIES/PARK USE:

Scenic driving tours, hiking and bicycling, camping, backcountry camping, skiing and snowshoeing, limited snowmobiling, picnicking, ranger led activities, wildlife and wildflower viewing and birdwatching.

RESERVATIONS/PERMITS:

Camping reservations for Moraine Park and Glacier Basin campgrounds, Destinet, 1-800-365-2267. Backcountry camping and bivouac permits, (970) 586-1242.

Reservations for outreach school programs must be made in advance. Environmental Education fee waivers for school groups should be made two weeks in advance, (970) 586-3777.

Commercial filming permits are required, (970) 586-1278.

BASIC VISIT RECOMMENDATIONS:

Day trips for scenic driving tours. Several days to a week for hiking, camping, and wildlife viewing.

SPECIAL EVENTS, PROGRAMS:

Ranger led programs are offered daily through the summer and frequently during the remainder of the year. Evening campfire programs are offered at campgrounds. Special lecture series and programs occur year round. The Rocky Mountain Nature Association offers summer seminar programs, (970) 586-1258. Both the towns of Grand Lake and Estes Park hold special activities.

VISITOR IMPACTS:

Information regarding road closures, trail conditions and closures is provided.

ADJACENT VISITOR ATTRACTIONS:

Shops, stores, lodging, food and restaurants are available in the towns of Estes Park and Grand Lake.

ADDITIONAL INFORMATION:

Write: Superintendent, Rocky Mountain National Park, Estes Park CO 80517, or call (970) 586-1206. Estes Park Chamber of Commerce, 1-800-443-7837. Grand Lake Chamber of Commerce, 1-800- 531-1019.
Do you have questions about Colorado's National Parks?